New product preview | Spatial transcriptomics opens 3D model of life science gene research
Recent developments in single-cell omics have brought life science research to a more microscopic level. Understanding the function of individual cell genes not only refreshes our discovery of the cell types that make up tissues, but also gives us a new understanding of cell functions and interaction mechanisms in tissues. However, the need for single-cell dissociation of fresh tissue and the need for sufficiently viable cells for experiments has made many studies rejected from the beginning. In addition, though data reduction, combined with existing knowledge, we can roughly infer the situation of different cell groups in the original tissue. But the real composition cannot be clearly depicted. So, in the face of this situation, is there a better solution? When the second-generation sequencing is almost complete than the gene chip, no one would think that the chip will have a gorgeous turn, and this time, the gene chip will play a decisive role for the extended research of the second-generation sequencing. Beyond the Sky - 10x Genomics Visium spatial gene expression solution .
Spatial transcriptome sequencing uses frozen sections as materials, which solves the limitations of cell dissociation and cell viability requirements. It also allows sufficient time for single cell sequencing to build a library after removing samples. Frozen sections were used for tissue staining and chip-based cell capture to achieve simultaneous retention of spatial locations and "single-cell" labeling and gene expression detection.
Figure 1 Chip composition and probe characteristics
By combining the tissue staining results with the gene expression matrix in the later stage, 3D modeling of cells, gene expression, and spatial location is realized, which provides the possibility to correctly identify different cell types and gene expression characteristics in tissues.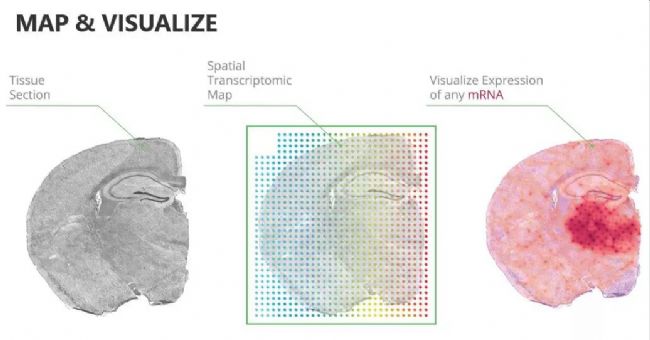 Figure 2 Data display
Through spatial transcriptome sequencing, combined with subsequent data analysis schemes, multiple analysis needs can be achieved: gene expression display in tissue regions, analysis of gene expression patterns in a single specific region, comparison of gene expression patterns in different regions, and cells based on machine learning Type identification:


Figure 3 Spatial Transcriptome Analysis Content
7 advantages of this spatial transcriptome product:
1. Obtain unbiased and high-throughput gene expression analysis of complete tissue sections in multiple sample types;
2. Examine the histology and mRNA distribution in the same tissue section and discover new tissue biomarkers;
3. Elucidate the biological structure and understand how local cells interact in normal and diseased tissues;
4. Avoid dissociating samples for gene expression studies;
5. No prior knowledge of cell subtypes or cell markers can be used to characterize cell populations;
6. Analyze and understand the heterogeneity of gene expression and its impact on biological systems;
7. Confirm, characterize or reject morphological conclusions by adding gene expression information.
The characteristics of this product are unique:
1. Stable platform, no need for single cell dissociation;
2. Strong tissue compatibility, most human, mouse, and rat tissues are available;
3. The experiment cycle is short, and samples can be completed to build a database in one day;
4. Optimized for fresh frozen samples, paraffin samples are also applicable;
5. A chip with 4 capture areas, each capture area contains 5000 barcoded mRNA capture points on a 6.5mm2 area (each spot captures an average of 1-10 cells, depending on the tissue type);
6. Data analysis tools are mature and can be visualized with Space Ranger and Loupe Browser software;
7. Can be easily combined with laboratory methods and tools currently used for tissue analysis;
8. High resolution and high sensitivity.

Figure 4 Gene expression profiles in the brain of space-based mice
This product is so excellent, of course, it has received great attention from its birth. In the white paper of the Human Atlas Project and the review review of the ten years of RNA sequencing, the advantages and development prospects of spatial transcriptome sequencing were mentioned. For your keen sense of smell, quickly turn your heart into action. For more information, please call: 400-100-2131.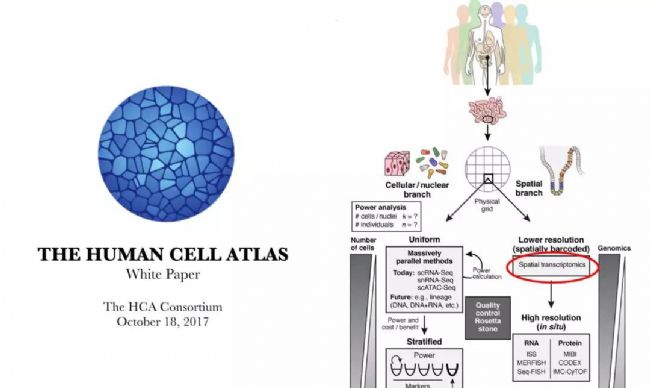 Figure 5 Human Cell Atlas Project
Shanghai Biochip Co., Ltd.
Shanghai Biochip Co., Ltd.
Copyright © Shanghai Biochip Co., Ltd.
E-mail:
marketing@77mcn.com
Address: 151 Li Bing Road, Zhangjiang Hi-Tech Park, Pudong New District, Shanghai
Technical Phone:
4001002131
Scan to view
WeChat public account