Frontiers: A Brief Analysis of Spatial Transcriptomics Research Cases
In the last issue, we introduced spatial transcriptome sequencing products and summarized their advantages and characteristics. How good is such an excellent product? We have a glimpse of the existing articles published in disease research.
01Spatial Transcriptome Study Analysis of Heterogeneity of Prostate Cancer [1]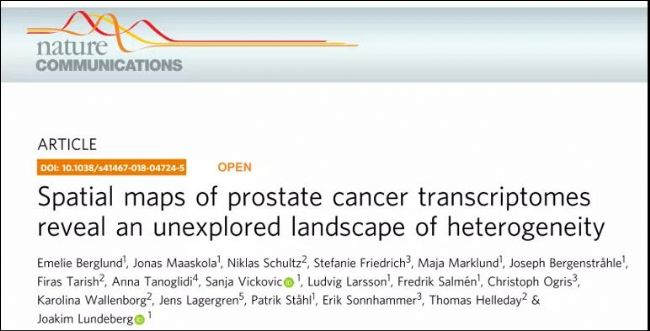 Impact factor: 11.878
Time: 2018.06
Publication: Nat Commun
Intratumoral heterogeneity is one of the biggest challenges in cancer treatment today. Here, the researchers used spatial transcriptomics (ST) technology to study the whole tissue gene expression heterogeneity of multifocal prostate cancer. Utilize a new deconvolution method to analyze the transcriptome of nearly 6750 tissue regions in 12 regions and extract unique expression profiles of different tissue components such as stroma, normal and PIN glands, immune cells and cancer. By distinguishing between healthy and diseased areas, analysis of gene expression changes during prostate cancer progression. The study more accurately delineates the extent of cancerous foci than pathologist notes. This study identifies gene expression gradients in the stroma adjacent to tumor regions to re-layer the tumor microenvironment. This study is the first step in an unbiased analysis of prostate cancer and lays the foundation for further research in the future.
Legend: experimental design
02Spatial transcriptomics for melanoma heterogeneity research [2]

Impact factor: 8.378
Time: 2018.10
Publication: Cancer Research
This exploratory study applies spatial transcriptomes to melanoma studies and demonstrates heterogeneity of intra- and inter-tumor gene expression in lymph node metastasis. The study used 8 slice experiments from 4 clinical samples to obtain spatial transcriptome data for more than 2,200 tissue regions. The study confirmed the match between histological entities and gene expression, and revealed more reliable transcription characteristics than histopathological analysis.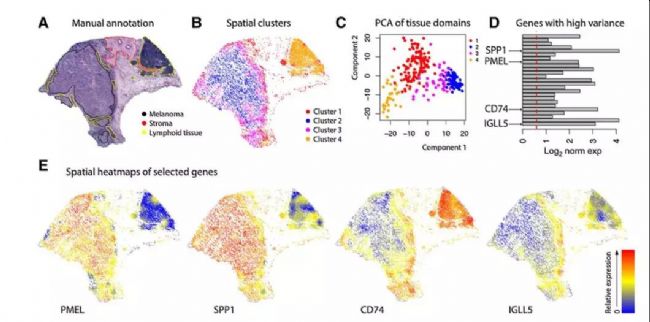 Legend: By using unsupervised factor analysis, we have not only identified malignant and non-malignant tissue regions, but also identified various expression "clones" in lymphoid metastases and the position-dependent expression patterns described in lymphoid tissues.
03 Spatial Transcriptome for Amyotrophic Lateral Sclerosis [3]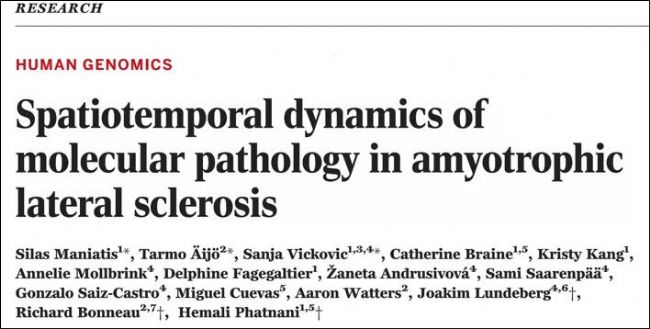 Impact factor: 41.037
Post time: 2019.04
Publication: Science
Amyotrophic lateral sclerosis (ALS) is caused by a disorder of skeletal muscle innervation caused by degeneration of motor neurons. The interaction between motor neurons and glial cells leads to the loss of motor neurons, but the spatiotemporal sequence of molecular events that drive these processes in intact spinal tissue is still poorly understood. Here, researchers used spatial transcriptomics to obtain gene expression tests in the spinal cord of mice and post-mortem tissue from patients with ALS during the course of the disease to uncover potential molecular mechanisms in ALS. This study identified regional differences in pathway dynamics between microglia and astrocytes at early time points and identified perturbations in several transcriptional pathways shared between ALS and a mouse model of human post-mortem spinal cord.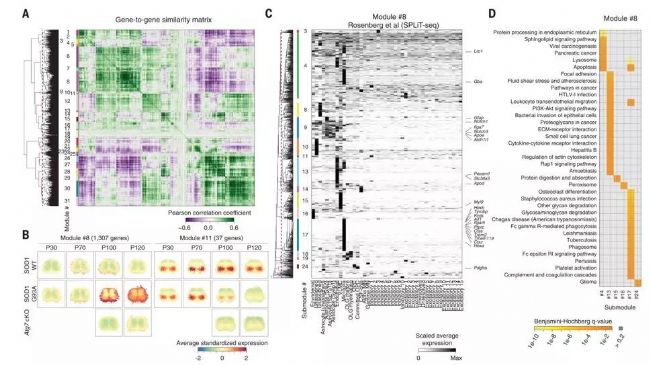 Legend: Spatiotemporal dynamics of gene expression during ALS disease progression
These three heavy articles fully highlight the advantages of spatial transcription and sequencing in disease research: time and space plus the gene expression characteristics of each cell allow us to understand the process of disease from a completely new perspective. Similarly, can other disease processes be studied using this platform? The platform is just a tool. As long as it is used properly, it will shine.
references:
1. Berglund, E., J. Maaskola, N. Schultz, et al., Spatial maps of prostate cancer transcriptomes reveal an unexplored landscape of heterogeneity. Nat Commun, 2018, 9 (1).
2. Thrane, K., H. Eriksson, J. Maaskola, et al., Spatially Resolved Transcriptomics Enables Dissection of Genetic Heterogeneity in Stage III Cutaneous Malignant Melanoma. Cancer Res, 2018, 78 (20): 5970-5979.
3. Maniatis, S., T. Äijö, S. Vickovic, et al., Spatiotemporal dynamics of molecular pathology in amyotrophic lateral sclerosis. Science, 2019, 364 (6435): 89-93.
Shanghai Biochip Co., Ltd.
Shanghai Biochip Co., Ltd.
Copyright © Shanghai Biochip Co., Ltd.
E-mail:
marketing@77mcn.com
Address: 151 Li Bing Road, Zhangjiang Hi-Tech Park, Pudong New District, Shanghai
Technical Phone:
4001002131
Scan to view
WeChat public account