Shanghai Biochip Co., Ltd.
Shanghai Biochip Co., Ltd.
product service
Product Service

The discovery of circular RNA (circRNA) widely in eukaryotes has added an important member of the transcription family. The research of lncRNA is also in full swing. How to take shortcuts in the study of complex transcription and transcription regulation networks? The SBC ceRNA chip is a full transcriptome + product. It not only detects non-coding RNAs such as circRNA and lncRNA and mRNAs encoding proteins, but also obtains circRNA and lncRNA function prediction results at the same time, providing a reference for further functional research. circRNA, lncRNA, as competitive endogenous RNA (ceRNA), competitively bind to miRNA, thereby regulating the expression of miRNA target genes. This mode of action exists widely. The ceRNA chip is also the best choice for ceRNA research.

As a mature technology platform, gene chip has been widely used for the detection of gene expression profiles for more than two decades. For lncRNA and circRNA gene expression profiling, gene chips have many important and irreplaceable advantages over RNA sequencing:

· The chip detects the expression abundance by using the fluorescent signal obtained by complementary hybridization and scanning of the oligonucleotide probe with the target gene base. Compared with RNA sequencing, the accuracy of chip detection is less affected by low-abundance transcripts, which is more suitable for detecting lncRNA and circRNA with low overall expression abundance. Increasing the sequencing depth will increase the detection probability of processed incomplete RNA, and increasing the sequencing depth may cause a decrease in reliability.

· LncRNA does not have the translation start and stop positions of proteins. RNA sequencing is less reliable in identifying lncRNA transcripts than mRNA. Shorter chip probes allow specific design and more specific detection.

· CircRNA has a special circular structure, but its linear sequence and linear genes are difficult to distinguish. A separate de-linear library is needed to detect circRNA by RNA sequencing. Multiple RNAs cannot be detected at the same time.

Chip design strategy:
The latest version of circBase was designed to include circRNA, and specific circRNA probes were designed for circRNA reverse splice sites.
LncRNA is also included in the latest databases and high-quality literature reports, removing redundancy, and removing lncRNA fragments and unreliable lncRNA through strict bioinformatics methods. CAGE-seq and RNA-seq data were used to identify lncRNA with high reliability 5'TSS and its expression in various tissues or cells. HGNC included and lncRNAdb collected experiments to verify functional lncRNA as high-confidence lncRNA. .
The probe is designed based on earray software, and the probe is double-checked using the SBC's own analysis process to ensure that the probe distinguishes mRNA from circRNA and lncRNA with high specificity.
Human ceRNA chip design flow chart
Probe design strategy: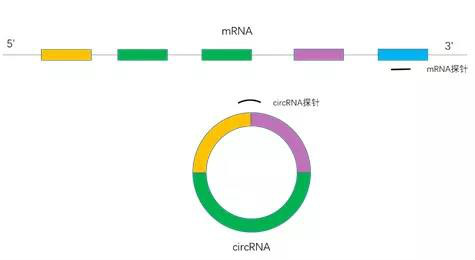 Chip characteristics:
· CircRNA probe is designed at the reverse splicing site, with strong specificity
· Mature technology and high sensitivity: the chip is more suitable for detecting lncRNA and circRNA with low expression than sequencing.
Short experimental period, mature and fast data analysis methods
· Includes lncRNA, circRNA comprehensive, reliable, and updated in a timely manner
· Gong Energy mechanism prediction, providing references for in-depth study of the biological functions of circRNA and lncRNA, including:
Highly conserved lncRNA; lncRNA binding protein prediction; lncRNA biological function prediction; lncRNA subcellular localization; disease-related lncRNA prediction; super enhancer lncRNA; enhancer lncRNA; disease-related circRNA prediction.
Chip technical parameters:
| | | | | | | | |
| --- | --- | --- | --- | --- | --- | --- | --- |
| Species | Chip name | format | circRNAs | lncRNA transcripts | Super enhancer lncRNAs | coding transcripts | Database source |
| people | SurePrint G3 Human ceRNA Microarray | 4x180K | 84569 | 72002 | 17652 | 18793 | NCBI, UCSC, Ensembl, Gencode, lncpedia, lncrnadb, NONCODE, circBase |
| Mouse | SurePrint G3 Mouse ceRNA Microarray | 4x180K | 49175 | 78264 | 8024 | 21611 | NCBI, UCSC, Ensembl, lncrnadb, NONCODE, RNAcentral, circBase, circledia, TSCD |
SBC is the earliest domestic gene chip R & D and one of the earliest gene chip outsourcing service providers. Based on years of experience in gene chip development, design, and foreign service, SBC has designed a full transcriptome + chip product that can simultaneously detect non-coding RNA such as circRNA and lncRNA and mRNA encoding proteins, combining the characteristics of lncRNA and circRNA molecules. To meet the research needs of scientists. The chip was commissioned by Agilent to use Agilent SurePrint technology to produce, the technology repeatability is higher than 99%.
Copyright © Shanghai Biochip Co., Ltd.
E-mail:
marketing@77mcn.com
Address: 151 Li Bing Road, Zhangjiang Hi-Tech Park, Pudong New District, Shanghai
Technical Phone:
4001002131
Scan to view
WeChat public account