Shanghai Biochip Co., Ltd.
Shanghai Biochip Co., Ltd.
product service
Product Service
Zetaview (Particle Metrix) enables rapid and stable identification of exosomal particle size, concentration and purity. The principle of the method is Nanoparticle Tracking Analysis (NTA), single particle tracking technology combined with classic microelectrophoresis technology (zeta potential) and Brownian motion, and the Stockes-Einstein equation is used to calculate the hydrodynamic diameter and concentration of the nanoparticles. NTA is one of the exosome identification technologies recognized by the International Society of Extracellular Vesicles (ISEV) and a large number of researchers. NTA technology can be simple, fast and does not destroy the original state of exosomes. And with corresponding filters, exosomes labeled with fluorescent antibodies (such as CD9, CD63, CD81, etc.) can be measured to determine exosomal purity. And it has the characteristics of fast detection speed, only 5-10 minutes per sample.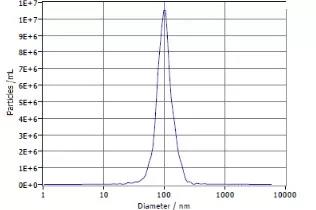 Sample test result graph
At present, the main methods of exosomes isolation are enrichment based on exosomes diameter, structure and other characteristics, or capture of specific membrane proteins. The product inevitably contains some other types of vesicles, which need to be identified by exosomes. Ensure the concentration and purity of the exosomes of the materials being studied. In 2014, the International Society for Extracellular Vesicles (ISEV) proposed that the identification of exosomes is divided into three levels: morphological characteristics of electron microscope identification, particle size and concentration of NTA identification, and protein markers.
Copyright © Shanghai Biochip Co., Ltd.
E-mail:
marketing@77mcn.com
Address: 151 Li Bing Road, Zhangjiang Hi-Tech Park, Pudong New District, Shanghai
Technical Phone:
4001002131
Scan to view
WeChat public account