Shanghai Biochip Co., Ltd.
Shanghai Biochip Co., Ltd.
product service
Product Service
working principle:
The key to Simoa technology is to capture and seal the immune complex in a chip containing more than 200,000 fly-through holes, which greatly improves detection sensitivity. Therefore, Simoa is also called digital ELISA, and its detection sensitivity is more than 1000 times higher than that of traditional immunoassay technology on average. It can accurately analyze low-level biomarkers that cannot be detected by traditional methods , and has opened up new research prospects in the fields of life science research, in vitro diagnostics, companion diagnostics, and blood screening.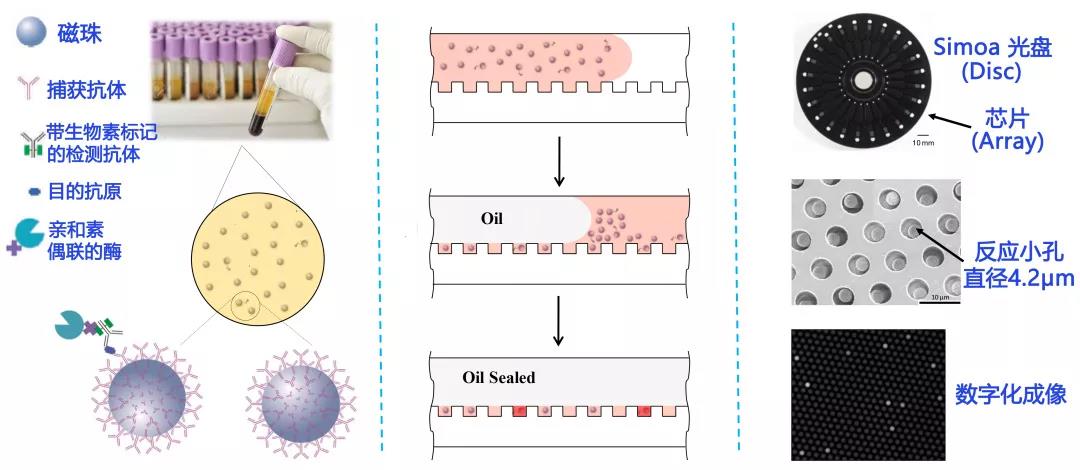 Workflow diagram
√ High sensitivity: 1000 times more sensitive than traditional ELISA
√ Fully automated: ensure repeatability and accuracy of results
√ Multiple detection: Simultaneous detection of up to 10 target molecules
√ High accuracy: the inter-batch coefficient of variation (CVs) of the experimental results is less than 10%
√ High linear range: detection dynamic range> 4 orders of magnitude
√ Independent research and development: can carry out experimental scheme development and optimization, suitable for scientific research and innovation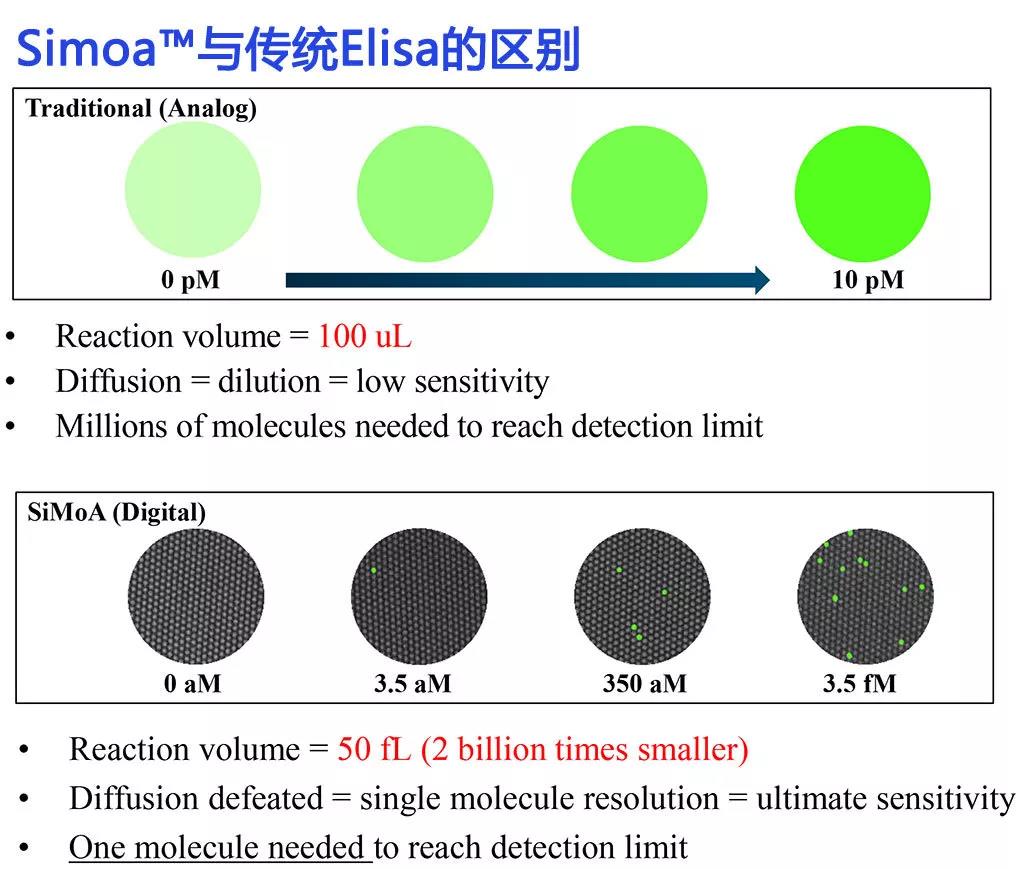 Main application areas:
1. Nervous field:
Improved ability to detect central nervous system biomarkers
With traditional techniques, very low levels of neurological biomarkers can only be detected in cerebrospinal fluid. Simoa technology can detect very low levels of neurological biomarkers in the blood, providing the possibility to improve the diagnosis of brain damage and encephalopathy.
Simoa test can detect neurological biomarkers related to brain injury and brain disease at an earlier stage, understand the long-term effects and pathology of the disease, and study for neurodegenerative diseases, neuroinflammation, traumatic brain injury and multiple sclerosis Wait.
Published Literature:
Verberk IMW et al. Plasma Amyloid as Prescreener for the Earliest Alzheimer Pathological Changes. Ann Neurol. 2018 Nov; 84 (5): 648-658. (IF = 9.638)
Hansson O et al. Blood-based NfL: A biomarker for differential diagnosis of parkinsonian disorder. Neurology. 2017 Mar 7; 88 (10): 930-937. (IF = 8.166)
2. Immune diseases:
Determination of inflammatory biomarkers in normal samples and immune disease samples <br /> Many key inflammatory factors, such as IL-1β, IL-2, IL-6, IL-10, IL-17A, IFN-γ, TNF- In the early stage of disease, especially in near-healthy populations, the expression level of alpha is extremely low. Existing traditional detection technologies such as ELISA cannot be used to detect these indicators due to the limitation of sensitivity, resulting in frequent vacant values in the research and analysis. Detection based on Simoa technology has unprecedented sensitivity for the determination of molecules that cause inflammation and anti-inflammatory molecules in serum and plasma, making more research on the effects of inflammation on health and disease gain new progress.
Published Literature:
Rodero MP et al. Detection of interferon alpha protein reveals differential levels and cellular sources in disease. J Exp Med. 2017 May 1; 214 (5): 1547-1555 (IF = 11.240)
Disanto G et al. Serum neurofilament light: A biomarker of neuronal damage in multiple sclerosis. Ann Neurol. 2017 Jun; 81 (6): 857-870. (IF = 9.638)
3. Oncology:
Determining biomarkers at every stage of tumor development <br /> Even with very low levels of biomarkers, they can still be detected by Simoa technology, providing new opportunities for cancer research in diagnosis and treatment. The Simoa test can be used to monitor cancer risk, diagnose early cancers, and identify benign and malignant tumor cells. Simoa biomarkers can also be used to predict the development and outcome of disease processes, progression-free survival, and to monitor disease recurrence. It also monitors patient sensitivity to treatment and helps doctors and patients make treatment decisions.
Published Literature:
Decalf J et al. Inhibition of DPP4 activity in humans establishes its in vivo role in CXCL10 post-translational modification: prospective placebo-controlled clinical studies. EMBO Mol Med. 2016 Jun 1; 8 (6): 679-83. (IF = 9.547)
· Schubert SM et al. Ultra-sensitive protein detection via Single Molecule Arrays towards early stage cancer monitoring. Sci Rep. 2015 Jun 8; 5: 11034. (IF = 5.228)
4. Infectious diseases:
Promote the prevention of infectious diseases
Simoa was able to detect infectious disease biomarkers before the immune response began. Since the immune response is the most infectious and rapid multiplying period of the virus, this technology will be the key to controlling the spread of the disease. Infectious diseases are also one of the hottest research fields today, and researchers are constantly looking for ways to detect infectious diseases earlier and more accurately. Simoa testing can significantly reduce the chance of infectious disease transmission through more widespread early detection.
Published Literature:
Petrone L et al. First description of agonist and antagonist IP-10 in urine of patients with active TB. Int J Infect Dis. 2019 Jan; 78: 15-21 (IF = 5.186)
Banz A et al. Sensitivity of Single-Molecule Array Assays for Detection of Clostridium dif fi cile Toxins in Comparison to Conventional Laboratory Testing Algorit. J Clin Microbiol. 2018 Jul 26; 56 (8). (IF = 3.631)
Dhummakupt A et al. The Latent HIV Reservoir Resides Primarily in CD32- CD4 + T Cells in Perinatally, HIV-Infected Adolescents with Long-Term Virologic Suppression. J Infect Dis. 2019 Jan 1; 219 (1): 80-88. ( IF = 6.344)
5. Heart disease:
Promoting the development of heart health
Simoa technology can detect extremely low levels of cardiac biomarkers, which will promote healthy heart development and open up the way forward. The Simoa test can detect cardiac biomarkers earlier than any previous technology, and these markers help predict common cardiovascular disease, the onset of heart failure, and the transition to end-stage renal disease. In addition, the Simoa test can identify small changes in biomarkers, effectively helping high-risk patients to understand the disease early and make personalized preventive measures.
Published Literature:
Zetterberg H et al. Hypoxia Due to Cardiac Arrest Induces a Time-Dependent Increase in Serum Amyloid β Levels in Humans. PLoS One. 2011; 6 (12): e28263. (IF = 3.057)
Jarolim P et al. Fully automated ultrasensitive digital immunoassay for cardiac troponin I based on single molecule array technology. Clin Chem. 2015 Oct; 61 (10): 1283-91. (IF = 7.457)
Simoa (Single Molecular Array) technology is based on Quanterix Simoa HD-1 digital single-molecule immunoassay analyzer, which can directly detect ultra-high sensitivity of protein, nucleic acid and other biomarkers in serum and plasma. Simoa will greatly promote cancer, especially Early detection, postoperative monitoring and precise medication. Its main application areas include tumors, nerves, infectious diseases, and immune inflammation. Currently, there are about 200 publications that have cited the technology worldwide, including high-scoring journals Nature, Nature Biotechnology, JEM, JAMA Neurology, and so on.
Copyright © Shanghai Biochip Co., Ltd.
E-mail:
marketing@77mcn.com
Address: 151 Li Bing Road, Zhangjiang Hi-Tech Park, Pudong New District, Shanghai
Technical Phone:
4001002131
Scan to view
WeChat public account